Otford Valley DA 2012-1480 - Say no to this development
Over 350 ha of essential wildlife corridor bushland is currently on exhibit with Wollongong City Council and appeal lodged with Land Environment Court for subdivision and housing development by Ensile Pty Ltd. This acreage was originally intended to be procured for an extension of the Royal National Park, but due to government departmental changes at the time, slipped through the cracks and was purchased by a private company. Given that the land is the main connection between the Royal National Park, Garrawarra State Conservation Area and the lllawarra escarpment, it is essential that it remains unfragmented, forested and natural.

As classic '7d' land it is destined as per council recommendations to be zoned E2 - environmental (next highest to national park protection E1) however this development application has been quietly lodged prior to the new zoning taking place. Whilst the 40ha per dwellling allottments meets the minimum subdivision requirements, the proposed western subidivision of 1ha lots do not, nor does the repeative inclusion of 'Future Urban Area' for housing along Werrong, Undola and the back of Shannon Drive.

Independent Environmental studies have yet to be undertaken by Council, Dept of Environment or the EPA. There is no way that opinions for hire can be accepted as unbiased or entirely accurate. This DA must be not be approved nor assessed under any zoning other than E2.

Please take a minute to voice your objection by completing the submission letter below, and adding your personal comment, especially if you would be neighbour to the new development!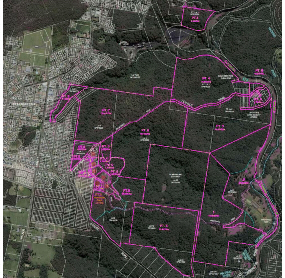 Click images to view larger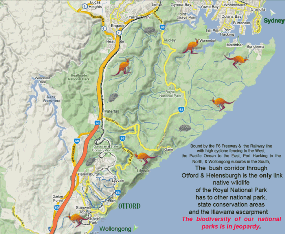 The Royal National Park and Garrawarra State Conservation area border the proposed site. Due to the freeway, building & ocean, the Ensile -Otford Valley Farm land is the main and essential wildlife link to the Illawarra .