Central Otford Precinct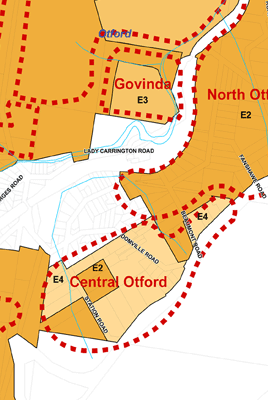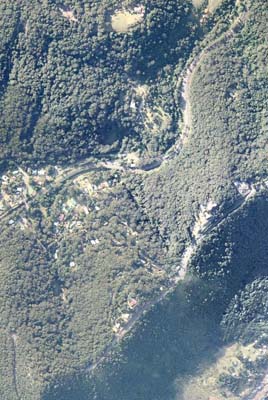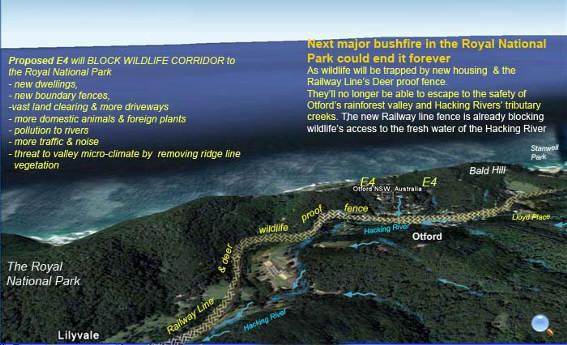 Att: Wollongong City Council
helensburgh@wollongong.nsw.gov.au
Locked Bag 8821,
WOLLONGONG DC NSW 2500
Re: Planning Proposal '7D' land Central Otford Precinct
I AGREE with the proposed E2 zoning in the central Otford precinct but I OBJECT to bushland in Otford being zoned E4. E4 would allow new dwellings on steep land feeding the Hacking River, and would block the wildlife habitat corridor between the Royal National Park and the Illawarra escarpment. Zoning other than E2 with existing lawful user rights, would allow new dwellings -with the consquences of
- extensive land clearing for fire hazard reduction and landscaping
- new boundary fences & concrete driveways
- more domestic 'killer' pets on the border of the Royal National Park
- increase of weed spread, weed killer and nitrate run off.
All of which will not only further fragment the wildlife habitat corridor and destroy the natural pockets of rainforest, but coupled with the deer-proof fence along the railway line, completely block the movement of wildlife between the Royal National Park and the Illawarra escarpment. In the next major bushfire of the Royal National Park , wildlife will no longer be able to retreat to the cool of the Otford valley or the Hacking River tributary areas. Further clearing of the valley's temperate rainforest and the ridge's tree line will also change the microclimate, precipitation patterns and water distribution in the valley.
The bushland in the central Otford precinct also provides a noise buffer between the constant roaring motorcycles along Lady Wakehurst Drive and the rest of Otford valley. Further depletion of the bush and degradation will have social and health impacts on the neighbourhood.
Plus on the proposed E4 bushland the angles are anywhere between 25 degrees and 60 degrees. Quite impossible slopes for living and in safe conditions. By clearing any of these areas could result in land slip at such great angles
E2 zoning should be applied with existing use rights to dwellings, OR on the large lots such as the 5acre blocks fronting Lady Wakehurst Drive, E4 applied to the 1000m sq around each existing dwelling and the zoning split so that the remainder of each lot is E2. It is far too risky especially given fluctuating minimum lot sizes, for such precious bushland to be zoned E4.
Yours sincerely,
Please complete the form below to have your say on the Central Otford Precinct. Your personal /additional comments will strengthen the submission further.
Please note: valid email addresses are necessary if you wish to receive acknowledgement from Wollongong City Council.

Private data will not be shared with any 3rd party